https://hcypbasketball.leagueapps.com/leagues/basketball
---
Early Bird Special (through June 15, 2021): $150.00
Regular Price starting June 16, 2021: $175.00

* Registration closes October 3, 2021, for  Grades 2-8.
*  Grades K-1 (clinic) and High School Leagues registration closes November 21, 2021.
If you opted to apply your registration for the cancelled 2020-2021 season to the current 2021-2022 open season, you are already fully-enrolled.  You may check your enrollment status simply by logging into your HCYP Basketball LeagueApps account.

HCYP Basketball will be bringing new excitement and opportunities in the new season including special clinics for each league, improved practice scheduling and in-game events.  Email blasts will bring news and updates to the HCYP Basketball family starting next month. 
Please note: The HCYP Basketball refund policy for 2021-2022 season is now in full effect.  The refund policy is included as a require agreement in the online registration process and may be viewed by clicking here.

Please be on the lookout for email updates starting early next month and check back to this website for updates.
 Email Conact:
* Technical Account Issues: support@leagueapps.com
* Questions About HCYP Basketball League Admin & Policy:
     - Middle School & Travel Basketball: Anthony Fulmore, Middle School & Travel Commissioner
     - Recreation Basketball: Jeff Komin, Recreation Leagues Commissioner
* Questions About Program Finance, Admin & Policy: HCYP Basketball Logistics Director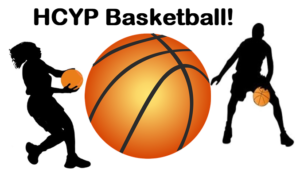 Note Regarding HCYP Middle School and Travel Teams:  HCYP Basketball Middle School and Travel teams are being managed separately by the MS/Travel Commissioner and the teams' head coaches in collaboration with public and private gym facilities.  Each team's head coach should be contacted for further information.