2022-2023 Winter Season Registration Now Open!
HCYP Basketball 2022-2023 registration is now in full swing with an Early Bird discount through June 30!  Boys' and girls' clinic and competitive basketball leagues will be provided for K-1 (clinics) and grades 2-12 for the winter season. Registration will close on October 16, 2022, for grades 2-8 and November 30, 2022, for clinics and high school leagues.
Details for the season will be published on this website in the coming weeks.  Once registered, you will receive email updates about the upcoming season, including player selections, practices (grades 2-8) and season schedules.
All Boys & Girls Divisions, K-12
Only $175.00 for the Full Season
Those who wish to volunteer to be a league commissioner or coach an HCYP Basketball team in for the 2022-2023 season may contact the Commissioner for the Recreation Leagues, Jeff Komin, at hcypcommish@gmail.com.
FINANCIAL AID - Now Apply Online:  HCYP Basketball provides financial aid opportunities for all boys and girls to help ensure they have an equal opportunity to participate as a player in the HCYP Basketball program.  You can now apply for financial aid support online by clicking on this link and simply completing the questionnaire.   Financial Aid applications will be reviewed and you will received notification your financial aid status within ten business days. if not sooner.
Information regarding the HCYP Basketball Financial Aid program is provided in the online application.  If you have any further questions, you may contact the HCYP Basketball Program Director, BJ Borden at bj@hcypbasketball.org.
---
Thank you players, coaches, commissioners
& parents for a Great 2021-2022 Season!

Against the Odds of Covid, you Made it Possible.

Over 2,800 children played HCYP Basketball this season and reaped the benefits of playing the sport -- along with their families -- in the recreation, middle school and travel basketball programs.  It was a huge collaborative effort for everyone, and was an amazing feat given the fact the we did not know for sure we would have a season because of the continuing Covid pandemic.  But we all did it because we all worked together.  Despite the challenges, you made it happen.
We look forward to seeing you all next year for a new and improved season in good health for all!  Check back here soon for registration for the 2023 season and the Early Bird Discount!
Have healthy, safe and happy Spring & Summer!  See you next season!!!!!
For further information contact:
* Questions About HCYP Basketball League Admin & Policy:
     - Middle School & Travel Basketball: Anthony Fulmore, Middle School & Travel Commissioner
     - Recreation Basketball: Jeff Komin, Recreation Leagues Commissioner
* Questions About Program Finance, Admin & Policy: HCYP Basketball Logistics Director
---
HCYP Basketball Program Director:
BJ Borden
bj@hcypbasketball.org
---
New Season registration starts with the Early Bird Discount by May 1, 2022!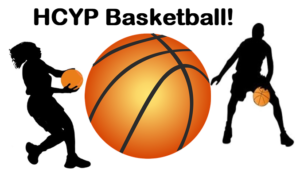 Note Regarding HCYP Middle School and Travel Teams:  HCYP Basketball Middle School and Travel teams are being managed separately by the MS/Travel Commissioner and the teams' head coaches in collaboration with public and private gym facilities.  Each team's head coach should be contacted for further information.