REGISTRATION FOR ALL LEAGUES IS NOW CLOSED
All recreation leagues will begin play the weekend of January 8-9.  Teams in grades 2 - 8 will be scheduled for preseason games the weekend of December 18-19.
Teams for Grades 2-8 are in the process of being selected.  Clinic and High School players will soon be contacted by a commissioner or coach for team selections.  For more information, please contact the appropriate league commissioner.   You can locate the list of commissioners in the Recreation drop down menu or by clicking here.
Middle School Leagues will start the weekend of Janaury 8-9, with the Travel League starting on January 9.
For further information contact:
* Questions About HCYP Basketball League Admin & Policy:
     - Middle School & Travel Basketball: Anthony Fulmore, Middle School & Travel Commissioner
     - Recreation Basketball: Jeff Komin, Recreation Leagues Commissioner
* Questions About Program Finance, Admin & Policy: HCYP Basketball Logistics Director
---
HCYP Basketball Program Director:
BJ Borden
bj@hcypbasketball.org
---
*

Special Health & Safety Protocols Will Be in Effect. Stay tuned to this website for more information.



* HCYP Basketball Will Follow Local, State and Federal Guidelines for Health and Safety Measures.
New Season!
Please note: The HCYP Basketball refund policy for 2021-2022 season is in full effect.  The refund policy is included as a required agreement in the online registration process and may be viewed by clicking here.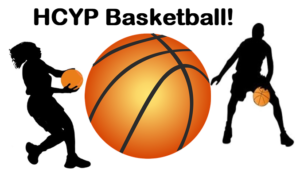 Note Regarding HCYP Middle School and Travel Teams:  HCYP Basketball Middle School and Travel teams are being managed separately by the MS/Travel Commissioner and the teams' head coaches in collaboration with public and private gym facilities.  Each team's head coach should be contacted for further information.